Charlene Reiff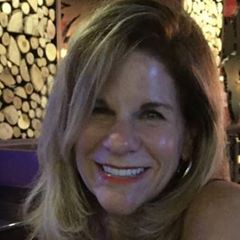 Profile
WHAT WILL I DO FOR YOU?
I have a Passion for Real Estate business! Whether it's Buying, Selling, Renting or Investing...call me for all your real estate needs. What you'll get is MY TIME & MY KNOWLEDGE & MY EXPERTISE! What I will do for you: Get you the Highest Net Amount for the property as a seller, or work to be sure you are getting the fairest value for your spending dollars as the buyer! I will protect you, your family, your pets, and your house, during and after the transaction. I will help you get through this transaction with the least amount of stress! And, I will accomplish this all within your timeframe!
KEEPING YOU & YOUR PETS TOGETHER!
My goal is "Keeping You & Your Pets Together!" I am a pet owner/lover and provide personalized service for pet owners! Pet ownership heavily influences both lifestyle and purchasing habits. Owners of multiple pets are significantly more likely to own their home. Pet owners consider their pets beloved family members. We are spending more money then ever on our pets and pay attention to their needs. When it comes to real estate, pet ownership influences a number of choices, including location, floor plans, yard size and more. For example, many pet owners fence in their yards and others say they might look for a house that makes it easy for them to take their dog out in the morning. At a recent home builders show, one concept house featured a special jetted tub for pet washing! Pet loving buyers new to the area will want to know about pet friendly parks and walking paths as well as nearby services such as doggy daycare and where the pet friendly restaurants are!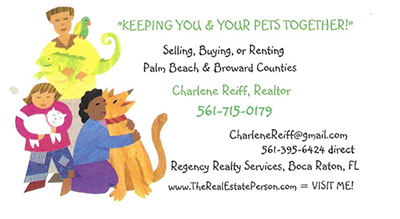 PROFESSIONAL EDUCATION AND DESIGNATIONS
Realtor, licensed in Florida since 1986! Member of Florida Realtor Assoc. Member of South Palm Beach County Assoc. Member of National Association of Realtors. Full time Residential Specialist. Member of Beaches Mulitiple Listing Service. Penn State University graduate, former Teacher & Business Woman. Past Chairperson of the Boca Raton Chamber of Commerce Ambassadors Division. Member of various Orchid Growing Clubs and an orchidist with many award ribbons. Volunteer with Tri County Humane Society.